Why we produce organic and sustainable flours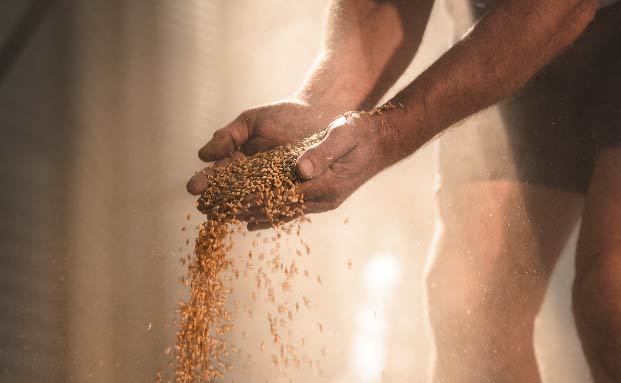 For over 40 years, wholegrain milling co., lead by the Neale family, have provided Australia's leading bakers and wholesalers with the very best, locally grown certified organic, sustainable and chemical-free grains and flours.
Sourced from Australia's eastern states, our grains are planted and harvested by farmers who care about the long-term health of the soil. On reaching us, these grains are then ground using our stone and roller mills, with wholegrain milling co. One of the very few mills in Australia to be certified organic. This means that from soil to grain, mill and flour we are providing a system that complies with the highest international standards of organic and sustainable certification.
What is Organic?
Certified organic products are grown and processed without the use of synthetic chemicals, fertilisers, or genetically modified organisms (GMO's).
This means products are chemical free – but just as importantly it is about the way food is grown and handled stretching from the soil to plants, animals, food, people, and the environment.
The organic movement began in the 1930s and 1940s as a reaction to agriculture's growing reliance on synthetic fertilisers. Artificial fertilisers had been created during the 18th century, initially with superphosphates and then ammonia derived fertilisers. These early fertilisers were cheap, powerful, and easy to transport in bulk.
As environmental awareness and concern increased, the originally supply-driven movement became demand-driven.
Wholegrain milling co. Began in 1978 when Wendy and harry Neale began stone-grinding organic flours with a small bench-mounted stone mill at their kitchen table as a way of dealing with Wendy's allergies. The company was created with the belief that organic grains will provide a better foundation to a healthy life. We're now proud to be Australia's biggest producer of organic flours.
What is Sustainable?
The fundamental aim of the Australian Sustainable Products (ASP) growing system is to improve the overall health of the soil. In doing so, the plants that are grown in the soil also have improved health, resulting in less strain on the environment, reduced reliance on artificial fertilizers inputs and more nutrient-dense food for consumers. The ASP standard adopts and promotes this core aim for the benefit of the environment, producers and the community.
The ASP system relies upon; crop rotation, use of residual crops, compost, soil conditions, legumes, green and brown manures, mechanical cultivation, cultural control, minimal and restricted use of synthetic fertiliser and pesticides, biological pest management; In order to maintain soil productivity and structure and supply plant nutrients to promote resilient plants that can sustain environmental stress, pests and disease pressures.
The sustainable system Is a fully traceable food system that ensures all produce has been verified chemical free. Wholegrain milling co. Is very proud of its mission to source and supply the best bakers from around the world with chemical free, organic and sustainable grains and flours of the very highest quality.
You may also like
News & stories
Wholegrain Milling has pioneered the way forward with the reestablishment of older wheat varieties that were previously lost to the modern farming system.
Read More
Read more
News & stories
Why We Stone Grind and Roller Mill
The desire to create a healthier, more natural flour lead to Wendy and Harry Neale stone-grinding organic flours at their family's kitchen table, over 40 years ago, in Gunnedah, NSW, with a small bench-mounted stone mill...
Read More
Read more